SEMESTER 2 Practice TEST
You can check answers at the end
PHOTOSYNTHESIS Chapter 9
1. Name the products of the Calvin cycle.
| | |
| --- | --- |
| Image from: BIOLOGY by Miller and Levine | 2. Name A |
3. Which gas is given off by plants during photosynthesis?
4. Which ion moves through the ATP synthase tunnel and provides the energy to attach a phosphate onto ADP to make ATP?
RESPIRATION Chapter 8
5. Which of the following is the correct sequence of events during cellular respiration?
A. glycolysis → fermentation → Krebs cycle
B. Krebs cycle → Electron Transport → glycolysis
C. glycolysis → Krebs cycle → Electron Transport
D. Electron Transport → Krebs cycle → glycolysis
6. What happens during glycolysis?
7. During cellular respiration which molecule is formed when OXYGEN (O2) accepts electrons at the end of the Electron Transport chain?
| | |
| --- | --- |
| Image modified from BIOLOGY by Miller and Levine | 8. Where does the Kreb's cycle happen? |
EVOLUTION Chapters 16, 17
9. ALL of the following support Darwin's Theory of Evolution EXCEPT ______________
A. similarities between a whale flipper and a bat wing
B. telomeres in the middle of human chromosome #2
C. loss of the ability to make vitamin C in humans and other primates
D. fossil record
E. development of antibiotic resistant bacteria
F. Inheritance of acquired traits

10. When Darwin returned from his voyage, he __________________________
A. immediately published his ideas about evolution
B. wrote about his ideas but waited many years to publish them
C. realized his ideas about evolution were wrong
D. copied the evolutionary theory of Wallace
11. Which of the following graphs shows a population that has undergone DIRECTIONAL selection?
<![if !vml]>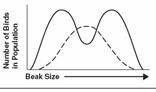 <![endif]> <![if !vml]>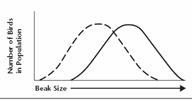 <![endif]> <![if !vml]>

<![endif]>
A. B. C.
12. A bell shaped curve is typically seen when graphing a trait that is _____________________.
13.Name the 5 conditions required to maintain genetic equilibrium under the HARDY-WEINBERG PRINCIPLE.

BIOSPHERE Chapter 3
14. Food chains always have a(n)______________ on their first trophic level.
15. Process in which bacteria convert nitrates into nitrogen gas and release it into the atmosphere.
16. Name the biogeochemical cycle which includes fossil fuels as a sink.
17. Where do humans get the nitrogen they need to make proteins and DNA?

HUMAN IMPACT Chapter 6

Image from: BIOLOGY by Miller and Levine
18. In which of these organisms would you expect the concentration of DDT to be the highest?

A. tree
B. grasshopper
C. frog
D. hawk
19. Acidification of oceans is the result of increased _________ in the atmosphere.
20. Burning fossil fuels causes ALL of the following EXCEPT______________________.
A. acid rain
B. global warming
C. ozone depletion
D. smog
21. Dead zones are caused by ___________________________.
A. using aerosols with CFC''s
B. fertilizer and animal waste runoff
C. drought
D. burning fossil fuels
ANSWERS:
1. Glucose
2. thylakoid
3. oxygen
4. H+
5. C. glycolysis → Krebs cycle → Electron Transport
6. A glucose molecule is broken down into 2 pyruvic acid molecules
7. water (H2O)
8. D. mitochondrial matrix
9. F, Inheritance of acquired traits
10. B. wrote about his ideas but waited many years to publish them
2.
11. C. shows stabilizing selection
12. polygenic
13. No mutations
No natural selection
No migration in or out
Large population
Random mating
14. producer (autotroph)
15. denitrification
16. carbon cycle
17. humans get their nitrogen from food
18. D. hawk
19. CO2
20. C. Ozone depletion
21. B. fertilizer and animal waste runoff

CLASSIFICATION Chapter 18
17.The scientific name for this animal is Panthera leo.
To which genus do lions belong?
<![if !vml]><![endif]>
18. The molecule found in the cell walls of Fungi which makes them different from plants is ______,
19. Organisms that "like" to live in hot environments like volcano vents would be in the DOMAIN
20. USE THE DICHOTOMOUS KEY BELOW TO CLASSIFY THIS LEAF

<![if !vml]><![endif]>