Kingdom: Animalia
Phylum: Chordata
Class: Osteichthyes
Order: Tetraodontiformes
Family: Tetraodontidae (puffers), Diodontidae (porcupinefish)
Genus species: Many different kinds of puffer fish
SPECIAL FEATURES:
The puffer fish has a unique way of defense. It puffs up two times its size and also releases a toxin called tetrodotoxin. This toxin makes a very unpleasant smell and not a good meal for the predator. Tetrodotoxin is present in the liver, blood, muscle tissue, ovaries, and intestine. If a human should eat puffer fish meat they would be poisoned and taken to the hospital.
REPRODUCTION:
The puffer fish has a unique reproduction method. The females lay eggs at the shore after the males have pushed them to a certain place. These are spherical in shape and usually float on the surface because of their weight. The babies usually hatch within a week. The larvae are covered in a shell that breaks within a few days and the larvae develops fins, teeth, and all necessary parts.
GENERAL INFO:
The Puffer fish is also known as the blowfish, fugu, swellfish, and globefish. They are called puffer fish because when it feel threatened it puffs up two times its actual size by gulping water.
BODY SYSTEMS:
Puffer fish have a small mouth, a tube-shaped body and relatively small fins. When puffer fish puff up, they are almost spherical. Puffer fish range in size from just a few inches long to almost two feet long. Some species of puffer fish have spines on their body, but many do not. The skin of puffers is very elastic and can stretch well.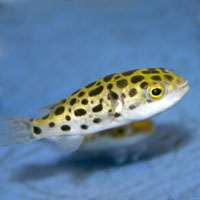 HABITAT:

There are around 100 different varieties of puffer fish and they are found in coral reefs in the India, Pacific and Atlantic Oceans. Many puffer fish can be found in fresh water as well. Some puffer fish swim to freshwater and some live their entire life in fresh water, without ever going to the sea. Most puffer fish are found in sub-tropical and tropical marine waters along the coast lines.
DIET:
Puffer fish are carnivores. They eat corals, sponges, sea urchins and other echinoderms. Puffer fish crush and grind up their prey with their heavy, fused teeth.
The puffer fish has a powerful toxin in its liver and ovary called tetrodotoxin. This toxin harms humans when they eat puffer fish. The Japanese have a special way of cooking and cutting the puffer fish so the toxins do not harm them when eating puffer fish.