Kingdom: Animalia
Phylum: Chordata
Class: Mammalia
Order: Artiodactyla
Family: Bovidae
Genus species: Bos grunniens
A yak's horns are used for several different purposes. One is to dig through the snow to find plants to eat. Yaks also use their horns for defense. Since these bovids live in a rather cold climate, their bodies have adapted to the weather. They have almost nonexistent sweat glands and more red cells than other ruminants.
Yaks mate during the warm summer months. They have internal fertilization and direct development. Nine months after the mating season, a baby yak is born. These babies become independent after one year and by the time they are eight years old, they are fully grown. A mother yak has usually one baby every other year.
GENERAL INFO:
The yak is a herd animal found around the Himalayans of Central Asia and are closely related to the American bison. There is a large population of domesticated yaks, and a very small wild yak population. Their life span is usually 20 years. The wild yak males grow to be about six and a half feet tall and wiegh a little more than a ton, and the females are one third smaller in height. On the other hand, domesticated male yaks weigh up to 1,000 pounds and females weigh a little over 500.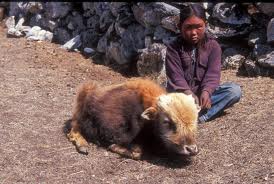 Digestive: Like all ruminants, the yak has a four-part stomach for a fuller digestion of the plants they eat. The food ferments in their stomach longer in order to absorb more nutrients. That way, yaks are able to maintain their health, yet still eat the low quality food that their environment provides. The food then goes to the relatively large rumen, and is afterwards regurgitated to be chewed again as cud.
Circulatory: Because the yak is a mammal, it has a closed two-loop circulatory system and a four-chambered heart.
Respiratory: Adding another adaptation to the high altitude, yaks have an extra pair of ribs to expand their lung capacity.

HABITAT:
Yaks live in the grassy plains of the mountains, being one of the very few animals that live at such a high altitude. The different parts of Asia where yaks are located include parts of India, Southern China, and mostly in the Tibetan Plateau. Yaks used to live in Nepal and Bhutan, but they are now considered extinct in those areas.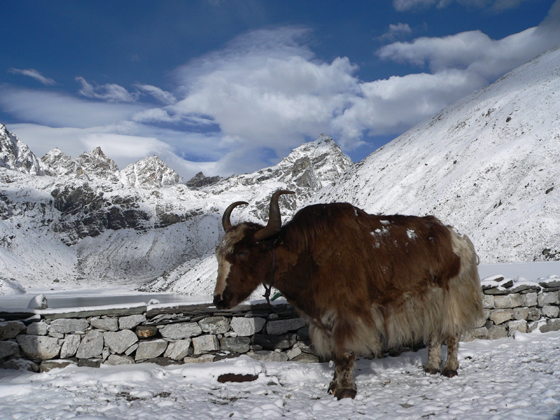 DIET: A yak's diet mainly consists of herbs, grass, tubers, flowers, and sometimes moss. When domesticated, during the winter the yaks' owner will feed it warm broth.

Humans have had a major impact on yaks because the large majority of yaks are domesticated. Usually they are treated like cattle, being set within a fence and herded from time to time. The main use of yaks today are for their hair, milke meat, and they are used as beasts of burden. In Tibet, one of the only fuel sources is dried yak dung. Yak milk can be turned into cheese and butter. The Tibetan people consider yak butter tea as a large part of their culture. Another use of yaks, for more of a leisurely activity than a necessary use, is yak racing. Tibetans will specially shave and race yaks for their traditional festivals.