HISTORY:
The Old Brookings Middle School was established in 1967, when the high school moved to its new building. It was the first middle school to be established in SD. Several changes have taken place since then. In 1992 the Brookings Middle School adopted the Team approach. Each grade level has two teams. Each team is served by 5 core area teachers as well as encore teachers.
The New Mickelson Middle School's History is just starting. Students moved into the new school January, 1999. The new building is equipped with the latest computer technology and networked using high speed Cat5 Ethernet wire and switches with Internet access to 4 computer labs and the classrooms.
MISSION STATEMENT:
Brookings Middle School is committed to providing a secure and stabilizing environment to meet the unique and personal needs of the early transient. Our students explore an expanded curriculum that builds on their elementary school program and prepares them for the specialized curriculum of the high school. Our primary task is to help each student become a responsible member of the community.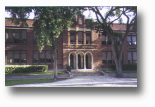 Old Brookings Middle School